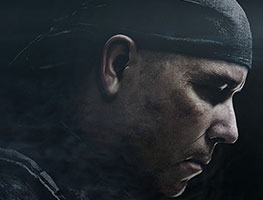 John Gaudiosi published an interview with Kevin titled "Call of Duty: Ghosts Villain Kevin Gage isn't Such a Bad Guy." Here are some excerpts:
Kevin Gage is the actor who plays Gabriel Rorke in Activision's new Call of Duty: Ghosts video game. Without giving away any spoilers, Rorke is the main antagonist in the new Campaign mode, and he's a pretty mean villain. But in real life, the 56 year-old Hollywood actor, who's starred in movies like Heat, Con Air and G.I. Jane, is pretty nice. He even lets his six-year-old son play Call of Duty with him. […]

What was this process like for you between the motion capture and the voice acting? 

It was a fairly simple process for me, because they hired me for a couple of reasons. I guess they liked my voice. It had a military kind of cadence that they saw in GI Jane, a movie I did a while back. I had the ability to go through this kind of normal good guy military delivery to this evil kind of delivery. They liked the fact that I could go from one end of the spectrum to the other, because my character turns evil towards the end. I never received a script, and they're pretty secretive about what they do. But from what I've been told, I think I'm a good guy at some point and then I go bad. […]

What was it like when you got the call to be in Call of Duty: Ghosts?

[…] They told me they'd pay me for the day to do some voice over stuff, and after that, they would consider whether they were going to hire me for the main character or not. I believe it was after that point that I realized it was Call of Duty, and I really kept my fingers crossed because I was a huge fan of the game. I'd never done a video game before or motion capture, and I was really looking forward to the process, especially being Call of Duty, which has the largest audience on the planet.
Read the full interview with Kevin on the Prima Games website.